UConn Men's Basketball Wins National Championship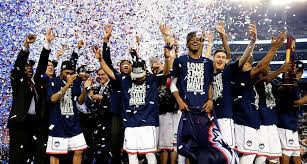 By defeating San Diego State 76-59, the UConn Huskies gathered their fifth National Championship title in the past 24 years. Even though San Diego State cut down the 16 point lead, it was not enough to beat the Huskies. After winning a title in each decade for the last four decades, Ray Allen, who was once a Huskie, told an ESPN reporter, "They've always managed to right the ship and get back to the top."
 ESPN says that it was one of the most dominant NCAA tournament runs in history. They won all of their games by double digits and won by an average of 20 points. Head Coach Hurley told ESPN, "We knew we couldn't go out like suckers again in the first weekend." The dominant wins motivated UConn to not end their tournament run early and take over. Although the Aztecs hit their first two three pointers of the game, they were unable to keep up with UConns offense. When the score was 10-6 in the Aztecs favor over three minutes in, they went cold and did not make a field goal for another 11 minutes and missed 14 shots. 
UConn's center, Sanogo, ended the championship game with 17 points and 10 rebounds. The junior was named Most Outstanding Player of the tournament. His head coach had high praise for him telling ESPN, "He's obviously cemented himself into the pantheon of greatest big guys… He's an all-time great." Sanogo and the Huskies played well enough to earn them the National Title.
Jackson and Hawkins also had a big impact on the court during the game. When the game was winding down, the Aztecs brought the lead down to five. It only lasted 15 seconds when Hawkins hit a three pointer to bring the lead to eight. When talking about Coach Hurley, Hawkins told the reporters, "I know he trusted me to take that shot. I had to make it." Hawkins scored 16 points and played a big role in the team win. Jackson was able to play great defense, limiting Aztec guard Miller to 5 of 15 from the field, and scoring 18 points and nine rebounds. Although Miller will potentially be the number one pick in the upcoming draft, the Huskies knew exactly how to defend him.
Hurley decided to remove the four previous national trophies from the office. He wanted the team to earn their own, and with this win he said, "I feel like now we've held up our end of the bargain."