Haiden Deegen Debut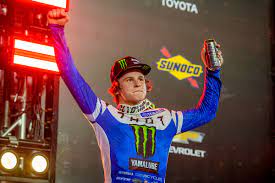 Haiden Deegan turns pro and ends up pulling fourth place in his first ever professional supercross race against some of the fastest riders on the planet. Haiden Deegen came out guns blazing during the heat race in Tampa Florida coming in first place, an amazing  feat for any rider nonetheless on his second only weekend as a pro. 
Deegens has been in the racing scene since 2011 on a KTM supermini blowing away the competition for years until Star Yamaha offered him a spot on their pro team in 2021 at just 15 years old! He is a youtube sensation and has documented his whole racing career on the platform. He's put in the work and it's paying off, now he gets to train with 2 time supercross and 4 time motocross champion Eli Tomac. It also doesn't hurt that his dad is Brian Deegan, 10 time x-games champion who taught Haiden how to ride. Haiden was always around the podium winning almost every race he entered early on in his career and has won loretta lynn's national championship 7-times. In his most recent race he got a podium spot of third place at Daytona, this shows he can keep up with the older guys just as good if not better and it's only up from here for this promising rider. 
Haiden Deegan, who made two starts in the Pro Motocross outdoor season last year, will make his Monster Energy Supercross debut in Houston. He placed 31st overall at the Ironman Nationals in Crawfordsville, Indiana, and 13th at Fox Raceway in the season finale, although overall results may not often represent how well he performed. Throughout the week, he competed for top-10 finishes in both races, and he finished 10th in one of the Pala motos. Haiden finished fifth in the Supercross 250 Futures in Anaheim 2 last week. "We're incredibly thrilled to get the season underway on the East Coast," Monster Energy Team Manager Jensen Hendler stated in a news release. "It's also fantastic to have Haiden advance to join our team." 
He was expecting to spend another year in the Supercross Futures class at the start of the season, but after placing sixth in the season opener at Anaheim 1, everyone saw what they needed to see. "After futures, I wasn't even sure if I was going to race, so we pulled it and we were like, okay, we may as well go race, get the experience, and so far it's going fantastic," Deegan said in the Daytona Supercross post-race press conference after winning his maiden podium in only his fourth 250 appearance. Not only did the Monster Energy Yamaha Star Racing team and Haiden make the decision, but so did his parents, Brian and Marissa. Even without any expectations, Deegan's success came quickly.