No Loss November at TD Garden
The Celtics and Bruins are off to a hot start with a  95.26% chance of winning at TD Garden. The Bruins and Celtics had a Combined record of 16-0 at the Garden. After beating the Carolina Hurricanes on November 25th the Bruins were 12-0-0 which made it their best home start in NHL history. 
The Celtics when they have played at home have outscored the other team by 10.2 points at home games. The Celtics are tied for the fewest losses at home this season in the NBA. After their loss Against Cleveland at home they went on a 7 game win streak at home during November. The Boston Celtics have the best record in the NBA at 19-5 and being first in the Atlantic and in the league. In order to beat the NBA record for best home record they would need to have 41 wins on their home court.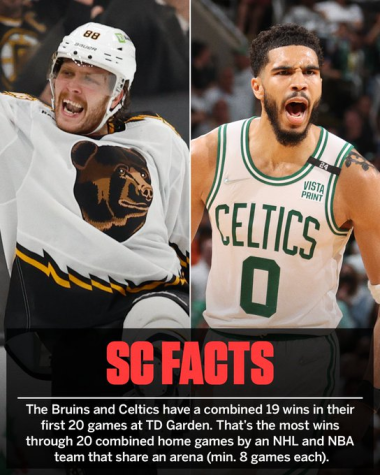 Could this win streak affect how they place in the finals? The Boston Bruins worst losing streak was in the 1924, 1925 season. This was their first year playing in the NHL so it makes sense that they would not win so many games. In the 2006, 2007 season the Boston Celtics had a 18 game losing streak after losing to the Orlando magic back in January 2007. 
The Bruins have set a record of a home win streak of 14 games. They have outscored their opponents by a combined 9 goals and their record on the road is 6 wins and 3 loses. The Bruins outlasted the Anaheim Ducks 2-1 in a shootout. Also beat the Minnesota Wild 4-3 in overtime. Most recently beat the Hurricanes. They have the best record in the NHL overall because of how good they are when they play at TD Garden. For Boston, beating the record for most home games wins in a season won't be easy as they need to win more than 36 games.