Deadly Morbi Bridge Collapse in India: Accident or Tragedy?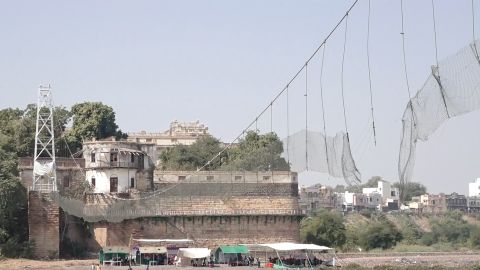 On November 1, 2022,  at least 141 people, mostly children, women, and the elderly, died when the Morbi Bridge snapped and collapsed in Gujarat in eastern India. According to authorities, they do not know if it was an unfortunate accident or something more sinister.
Built in 1880, the popular suspension footbridge spanned the Machchu River. The bridge was a popular attraction for both tourists and locals since it hung above the skyline of the city and offered a birds-eye view of the town. According to Sumit Khanna and Shivam Patel with Reuters News, when the bridge collapsed, there were hundreds of families on the bridge celebrating the Diwali holiday, many more than the bridge was designed to hold. According to CNN, although the bridge was 755 feet long, it was only 4 feet wide. Reuters News reported that the bridge "was packed with sightseers around the Diwali and Chhath Puja festivals when it gave way on Sunday evening, sending people plunging about 10 meters (33 feet) into the water." When the bridge collapsed, the victims had to swim in the river or hold onto pieces of debris, which was nearly impossible for many of the small children who perished. 
According to the BBC, Gujarat authorities are investigating the cause of the collapse. CNN reported that, "public scrutiny has turned to Oreva," an electrical manufacturing and clock-making company based in Ahmedabad, Gujarat's largest city. The collapse occurred a mere five days after the bridge reopened following Oreva's work on the bridge. Oreva renovated the bridge over a 6 month period at a cost of about 20 million rupees (about US $242,000). According to the BBC, "NDTV quoted a top company official, Deepak Parekh, telling the media that '[i]f people act responsibly without damaging the property, this renovation can sustain for the next 15 years.'" And, according to CNN, Oreva's managing director, Jaysukhbhai Patel, told reporters during a reopening ceremony on October 26 that "the structure would not need any major work for eight to 10 years." The bridge reopened without being issued a fitness certificate.
The police have arrested nine suspects, all of whom are part of Oreva, who are being investigated for homicide. 
The question remains: how could the bridge have collapsed after supposedly being fixed up and built to last another decade? The chances that the contractors or workers made a debilitating mistake is looking high. This tragic accident could have been prevented if given further inspections before reopening and is extremely unfortunate for all the families and friends affected by this event.