Cooper Rush Season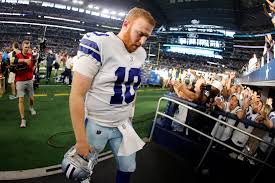 Cooper Rush leads Dallas Cowboys to 4 straight victories after losing starting quarterback Dak Prescott. Rush is 4-0 as a starter for the Cowboys and is making shock waves in the league. Cooper rush has taken over for the struggling team and brought a new energy to the offense.
Cooper Rush went to Lansing Catholic High School in Michigan where he flourished for around 9,000 yards and over 120 touchdowns. He wasn't a highly rated recruit coming out of high school though being ranked around 1500 on 247 sports. Cooper decided to attend Central Michigan College and in his best season he threw for 3,800 yards, 25 touchdowns and 12 interceptions. He accumulated 12,000 passing yards and around 90 touchdowns in college.  Although he had a solid College career he went undrafted and signed with the Cowboys in 2017. He bounced around the league for the next three years including playing for the Giants and Commanders practice squads. He made his way back to the Cowboys and the rest is history.

It seemed to be the right decision for the Cowboys as they are undefeated with him starting. With the recent injury of Dak Prescott, Rush has taken over the starting spot. He has thrown for 737 passing yards and 4 touchdowns in his first 4 starts. One of the main questions is will the Cowboys keep Rush or start Dak going into week 6. Alot of people speculate that Dak will make a return but Rush has done his job as the backup.
Rush made his first appearance of the season against the Washington Commanders. He led the Cowboys to a 25 to 10 victory whilst throwing for 223 yards and 2 touchdowns. The quarterback told the media "After Dak went out I knew I had to make the most of my opportunity. I stepped in with confidence and me and the boys did what we do to win games." He was also asked whether or not he was gonna be the starter upon Dak's return. "I'm not sure, but that's not what I'm focused on. I'm gonna help us win games in any way I can and that's all I'm concerned with." Coach McCarthy is gonna have a tough decision on his hands either way. Dak is a wily veteran who has won a lot of games for the franchise but it's hard to take Rush out after his immediate success.