NASCAR World Reacts to Bubba Wallace Postrace News
Bubba Wallace, a driver for the 23XI team was one of two black drivers to win a NASCAR cup series. His first victory was at Talladega Speedway in the fall of 2021. He also won at Kansas Speedway in his number 45 car. His freshman season Bubba placed runner up at the Daytona 500, he went on to place top 10 twice in this season. Wallace also races in the Camping World Truck Series and has 6 total career wins. Now Wallace joins the Hall of Fame with Wendell Scott as the first African Americans to win at Martinsville in 2013.
On Sunday night after the race, Bubba Wallace had a really amusing experience. At Talladega on Sunday night, the 23XI Racing driver came in 16th. While Wallace was not happy with how things turned out, he did see one bright spot. On Sunday night, Wallace's post-race tweet went viral. The driver of the No. 45 vehicle tweeted after the race, "Well, we didn't crash."
Fans of NASCAR appreciate Wallace's transparency on social media. Do you consider that a victory at Talladega? No. Perhaps a moral triumph, however you can't count on it since Chase Elliott will claim his victory, a supporter commented. "I enjoy this… Accentuate the good" committed to achieving professional success. Another supporter chimed in, "From what I saw, the team didn't bring all the horses this week!"  If you don't like this guy, discover more about him by doing some investigation. He really is a true racer. Avoid allowing the media to lead you astray. "Way to go," another supporter said.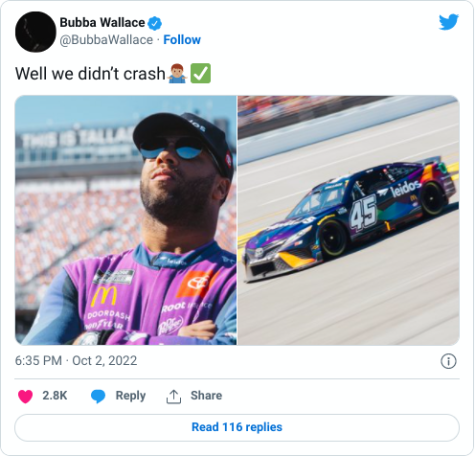 Kansas was in disarray according to NBC Sports News. Tire blowouts. Pit-road blunders multi-car collisions difficulties on the playoff grid. Above it all, Bubba Wallace excelled. In the NASCAR Cup Series race on Sunday at Kansas Speedway, Wallace, 28, made a late-afternoon charge and held on to win for his second career victory. Denny Hamlin, one of the owners of the 23XI Racing team for which Wallace drives, was outpaced by Wallace at the finish line. With 43 laps remaining, Wallace seized the lead and was not really contested again. He completed 58 laps in the lead.
NBC Sports News was able to capture Wallace's delight after his performance. Today's pit crew was fantastic. One of our wheels was loose. Just be grateful. Thank you for the chance, and I'm grateful that I was able to silence a lot of individuals. The fact that a non-playoff driver won a race for the second consecutive week made Saturday's race at Bristol Motor Speedway crucial for the majority of the playoff field. Last week, Erik Jones triumphed at Darlington Raceway. With Wallace's victory, non-playoff drivers had never before won the opening two playoff races. In a race that was cut short by weather in October at Talladega Superspeedway in Alabama, Wallace earned his maiden victory. He became the 18th different champion of this season.