Owls Country, Lets Fly
PLAISTOW, NH- Moving up to Division 1, Timberlane Football is going to face a lot of adversity throughout the season.
Head coach of the Timberlane Owls, Kevin Fitzgerald, feels confident making the move up to Division 1. Mentioning the rugged defense, coached by defensive coordinator Mark Pasquini. 
Knowing what teams are going to run at you is vital so you can be prepared on a Friday night. Being able to attack on offense and put points up on the board is also key on a Friday night. The owls plan on having Freshman Liam Corman to help carry the burden of that job.
Coach's Pasquini is very dedicated when it comes to spending time in the film room. When we asked him about the importance of watching film, here's what he had to say: "Very important, I think it helps us see how teams are going to attack us and what plays you can expect out of certain formations." 
Dedication, consistency, and experience are all things a team needs to be successful in any division. 
This is what Kevin Fitzgerald said when asked how confident he feels moving up a division "We feel good about this group of seniors and underclassmen from an overall perspective. I feel that we are equipped to make the move back up… Physically, mentally, strength wise, size wise to compete with some of the top teams in the league."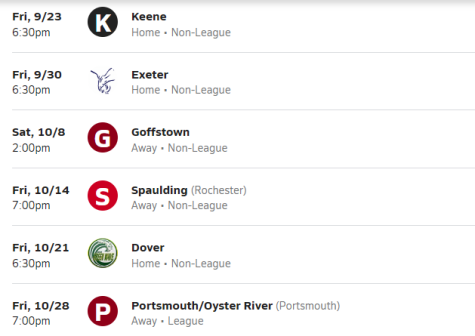 Moving up to Division 1, the Owls can be sure to expect some bigger and badder competition.
 With this adding risk to injuries, the Athletic Trainer for the Owls is expecting more players in the trainer's room. "We are in a division that has larger guys so we will have to rise up to that level… also you guys are now playing full games which you are not used to over the last couple of years."
With bigger and better opponents in Division 1. Newcomers to the Owls football program can feel intimidated. 
But freshman running back Liam Corman has no worries "I feel pretty good, I like being out with the older guys and getting to learn the plays early". Corman, already having 2 rushing touchdowns on the season, looks forward to increasing that number throughout the year.
The Owls look to be a powerhouse in Division 1. The coaches and players believe they have what it takes to compete with high ranked teams. Although they are guaranteed to face some adversity, they have to stay poised and confident in each other if they want to succeed.
| | |
| --- | --- |
| | |
| 2 | Dom Coppeta |
| 3 | Trey Baker |
| 4 | Andrew Morin |
| 5 | Liam Corman |
| 29 | Jaden Mwangi |
| 51 | Cam Zambrowicz |
| 55 | Kaeleb Moley |
| 59 | Niko Langlois |
| 72 | Nick DeLucia |
| 82 | Harrison Bloom |