GrandeLASH Enhancing Serum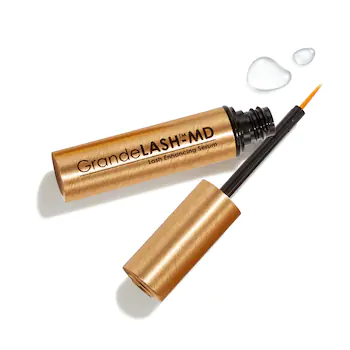 Grande Cosmetics carries a product called "GrandeLASH-MD Lash Enhancing Serum." On the Grande Cosmetics website it is described as, "Award winning lash enhancing serum infused with a blend of vitamins, peptides and amino acids to promote  the appearance of naturally longer, thicker looking lashes in 4-6 weeks, with full improvement in 3 months." The product is directed towards people with short brittle lashes. The website also states that the product is Ophiologist tested and is safe for use with contacts and lash extensions. This product is very popular and seems to bring amazing results. 
Grande Cosmetics lists the product as five out of five stars from customer reviews. It's priced at  $68 dollars for a three months supply of 2mL bottles. The key benefits of the product are that it helps to grow naturally longer, thicker lashes. And it only needs one-swipe. To apply the product you swipe the brush on to your lash line. You are set to use the product once a day and maintain use to see results. It does not matter what time of day you apply, but after three consecutive months Grande Lash says you will see a change in your lashes. 
Now let's see what people in the reviews have to say about this five star product. Candance A, 25-34 years of age, shared in the comments, "Get it now! I have seen so many results from this product. I love it!" Also in the reviews, Cristina B, age of 18-24, left one star saying that the product was extremely irritating.  There seems to be much more high rating reviews than low rated reviews listed. So, I asked my friend that personally uses it, and she said, "I did see results, I was surprisingly pleased using it!"