Run of the Savages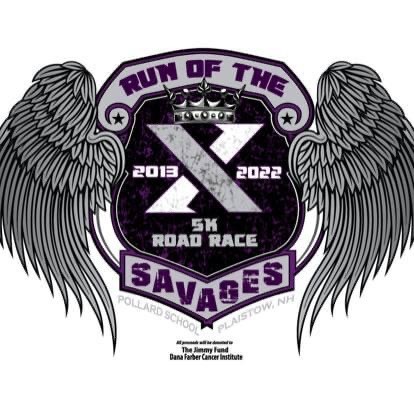 On Saturday April 9th, the tenth annual Run of the Savages road race will be held to raise money to fight against cancer. All proceeds will be donated to the Jimmy Fund/Dana Farber Cancer Institute. 
This will be the first time in two years the race is held normally due to COVID-19. The past two years the race was held virtually, which means using google maps, an apple watch, or any other running/walking tracker people would submit any 5K distance course they ran and their time. Despite it being a virtual race, almost $2,600 was raised through registration costs and apparel sales. 
The race was founded back in 2013 to commemorate the death of Police Chief Stephen Savage. His family and community was deeply affected by his death and knows how cancer affects other families in similar situations, hence why this race is so important in the community. It is an awesome event where everyone comes together to fight for a common cause. 
In addition to the road races that are held, recently New Wave Nutrition created a special edition "The Savage" boosted tea drink to help raise funds for the program. 35% of the sales on that drink are donated to the Run of the Savages program to go towards the Jimmy Fund. To date, with all fundraising included the program has raised over 67,000 dollars. The program aims to keep that number increasing in the future.
The past few years participation has been slightly down due to the race being held virtually, but this year now that the race is back on live they're expecting a large turnout! The highest participation in the past was 571 in 2015, and usually is around 400-450 participants. 
The event starts and ends at Pollard Elementary School, and starts at 10AM. All ages and ability levels are welcome, from serious runners to families. Food and drinks are available before and after the race. Participants can either pre-register online, or register the day of at the event. Come out this Saturday to support the town of Plaistow and raise money to help fight cancer!