Selfless Student – Timberlane's Holiday Hero
Catherine Hammond recently contributed in a big way to her community this holiday season by raising money, gifts, and other things for those in need.
Catherine Hammond is a student at Timberlane Regional High School, and she is heavily involved with lots of extracurriculars including many honor societies, including Science, Math, and English. Catherine is the Vice president of Science Honor Society, and also the Vice President of English Honor Society.
She is also a part of the National Honor Society which is a lot of work and a big commitment. She is the treasurer of the NHS. On top of all this, Catherine was a member of the very successful Varsity Women's Soccer team this year.
She holds leadership positions in many of these clubs and organizations, and always works the hardest to contribute in any way she can.
Catherine is very selfless and always works very hard to go above and beyond, she balances a lot of work and manages to keep track of everything in order to give back to her community. Catherine's character and hard work does not go unrecognized by her students as well as her peers. Bradley Vigars was quoted saying "Catherine is caring and selfless. She goes above and beyond for her community."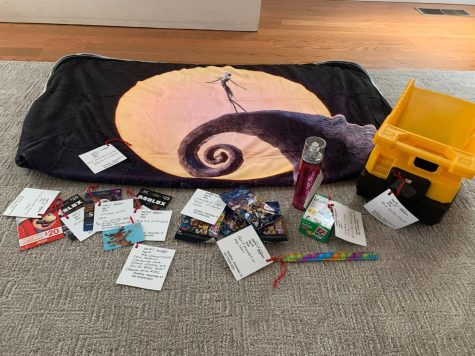 Working with the Math, English, and Science Honor Societies, Catherine was able to raise over $800 in the form of gift cards, blankets, toys, diapers, etc. for the community and the Giving Trees in Atkinson, Sandown, and Danville. Not only were her actions generous, but she devoted much of her time and effort into such – going from store to store, looking for specific items to get for those who were in a time of need.
Her actions were very kind and selfless and were appreciated by many members of the community during this holiday season. She made the holidays happier for people in need.