Breakout Players Halfway Through the 2021 NFL Season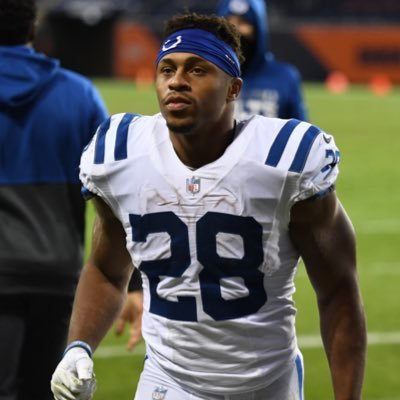 Ja'Marr Chase
The leading player for Rookie of the Year is living up to his draft day hype and potential we all saw in college half way into the 2021 season. Early signs for Chase coming out of training camp were not good, with him saying that the football in the NFL is harder to see than the college ball due to there being no white stripes on the end of the ball. There were also indications noted that he was having drop problems. What many saw as a bad pick at the time due to a poor offensive line and high draft capital for a wide receiver, he and Joe Burrow have proved all of the doubters wrong so far. The Joe Burrow to Ja'Marr Chase deep ball connection is looking as sharp in the big leagues as it did in LSU.

Jonathan Taylor 
Like Ja'Marr Chase, early signs coming out towards the end of preseason did not point up, as Carson Wentz and all pro left guard Quenton Nelson suffered high ankle sprains. Both Wentz and Nelson both beat out their time tables and returned earlier than expected. They both ended up playing week 1 against the Seahawks. How does this have to do with Jonathan Taylor? Well Jonathan Taylor has exploded in the past six games thanks to all of his surrounding pieces back and healthy. His season started very slow for his standards against some tough run defenses, including the Rams and Seahawks. Taylor has 650 yards in the past six weeks and is second in rushing yards on the season. Taylor will likely end the season with the most rushing yards in the entire league, which is very impressive considering he is only in his second season. 
Michael Pittman Jr.
Pittman has been by far Carson's favorite target this season and has been great all season long. Unlike Jonathan Taylor, Pittman has been great all season long, but his touchdowns have come as of recent. He has scored 5 times in his last 5 games, including a 10 reception 2 touchdown monster game against the Tennessee Titans.
Needless to say, the Colts have saved their season with the help of some young stars.
D'Andre Swift
Coming off Mathew Stafford being shipped to the Rams, Swift has helped the Lions offense be capable of not being blown out week after week. D'Andre has been the pure bright spot on Detroit's offense, except for their young emerging offensive line. You can not sugar coat what Jared Goff has done this year, because he has been awful. Lucky for D'Andre Swift fantasy owners, Jared Goff loves to use Swift in the passing game partially because he has no one else to throw to.
The third year for a player tends to be their "make or break year", but these players seem to be smashing the narrative, as all four of the players listed are either in their first or second season. Will they continue their young dominance or will defenses find a way to stop them?