Converse, the Timeless Shoe with a Carefree Lifestyle
There are many sneaker brands that manufacture sneakers, but none of them beat Converse.
Converse, an American shoe company founded February 1908 in 'local' Malden, Massachusetts,has become the staple for every sneakerhead/fashion lover's collection.The classic black and white colorway hightop converse and triple white converse can be found in the hallways of almost every high school. Converse have also been noticed by many designers. Converse is nutritious for producing collaborations like, Comme Des Garçons Play x Converse,Off-White x Converse, Stussy x Converse, Carhartt x Converse,Golf Le Fleur x Converse Tyler the creator's brand, and many others. Anyone who has any interest in fashion or sneakers should at least have one pair of these timeless shoes.. But what makes them so good?
A converse is not  just one model of shoe. There are at least over five styles to choose from under the branch of Converse, even the pickiest critics will be satisfied with at least one model. Nervous about getting into the fashion world? People can never go wrong with a pair of Converse. Unsure what color shoe to get? Converse has at least 10 color shades in each option OR you can completely customize your own shoe to your liking on the Converse website.  "Let's converse in colours. Art is never limited to the canvas." [Converse] The fashion world is ever changing, new trends and micro trends pop up constantly, almost daily.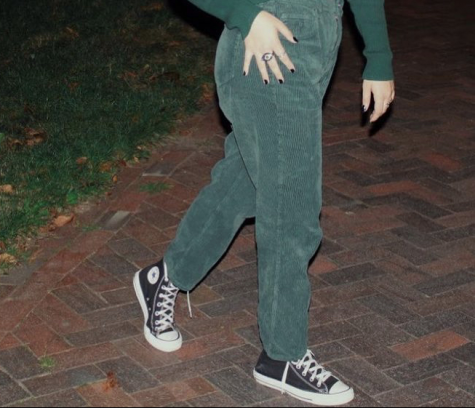 How is it possible Converse have been able to stay included in these new trends? Converse consistently makes new shoe designs and models to stay with the wave of current and upcoming trends. Converse are simply timeless! "Converse All-Stars are iconic: It is almost a practical impossibility for most sneakers to remain relevant over the years. Irrespective of the changing fashion trends over the years, Converse sneakers have maintained consistency. This has primarily contributed to the attainment of the 'iconic status.' Its style is simple yet classic." [FreakyShoes].
You've told you about how great and timeless the Converse sneakers are but, what do you wear them with? Anything and everything.  "They are versatile: You can wear a pair of Converse sneakers, whether you are going on holiday, market, or even when getting married. For people who don't like carrying a lot of clothes while traveling, versatility eases stress for them. Converse can be packed and mixed and matched with a different look."[FreakyShoes]  A converse enthusiast lives life carefree without any worry in the world on whether their shoes will go with their outfit.
Overall, Converse has created a culture which is unmatched by any shoe brand. On the topic of colors, Converse is off the charts. On the topic of options, Converse has many and then some. As soon as one finishes lacing up their converse they take a step into the world of fashion and one large leap into the universe of the chill mentality which Converse continuously exudes.