What's New with Ugg?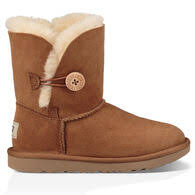 UGG is a footwear company that is very well known around the world today. UGG started out with a baseline UGG boot, but has since expanded. They have dozens of other merchandise. According to the UGG website, they now have a vast variety of shoes to choose from. UGG also stated that they added items such as Outerwear, Hoodies & Sweatshirts, Robes & Sleepwear, Loungewear, Tops, Sweaters & Cardigans, Bottoms, Handbags & Wallets, and Cold Weather Accessories in the early 2000's. This makes UGG a universal company for everyone to buy from and a very strong competitor.                               
My personal experience with UGG has only been with their shoewear. I received a pair of UGG's Classic Bailey Button Boots five years ago for Christmas. I still have them today, and they are in pristine condition. Recently, I got a new pair of UGG's Classic Mini ii Boot, and they have not let me down through the snowy months of winter. They don't differ from my older pair of UGG's, they are just a different style. According to the UGG website, they are lined inside and outside with a "plush sheepskin" material to provide extra warmth and comfort for all your cold weather needs. Those boots sit at a hefty price of $180 dollars. At such a high price, you surely will not be disappointed with the product. UGG ensures that your boot is made for your specific needs by having dozens of different boots to choose from for different types of weather. 
UGG also sells a kit that allows you to make your sheepskin shoes waterproof and weather resistant. Although they already have a weather resistant coating on them, buying this kit will ensure that your boots will repel all liquid and dirt. The kit is sold on UGG's website, and retails at $25 dollars. According to UGG's website, "This cleaning set includes the Protector, Cleaner & Conditioner, Shoe Renew freshener, a bamboo handle brush, and suede scuff eraser. UGG Sheepskin Protector is a water-and-stain repellent spray which protects your shoes from the elements. For existing wear, our Cleaner & Conditioner rejuvenates sheepskin, while Shoe Renew freshening spray eliminates odor. Brushes and scuff erasers keep the finish fresh and clean." I have personally purchased this kit and it is very easy to use on my UGG boots. It has protected them very well from liquids and all kinds of dirt.
Overall, UGG is a very well known brand around the world. From their shoewear, to their apparel, they have dozens of options for everyone to choose from. Although their prices can be high, it is worth every penny.