Laser-Show Legend Retires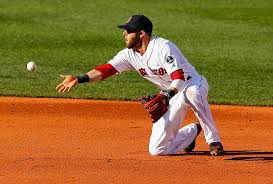 Dustin Pedroia is one of the most well-known names in the baseball industry. Having played 14 seasons in the MLB, all with the Boston Red Sox, Pedroia managed to collect a Rookie of the Year title, 4 All-Star Awards, 3 World Series rings, and 4 Golden Glove awards throughout the duration of his career. Even if you were not a Red Sox fan, there is a good chance you knew who he was and how vital he was to his team's success. The talented and hardworking second baseman has had a beyond impressive career, however this past Monday he announced his retirement. The past 14 seasons have been nothing short of inspiring to baseball fans across the nation, but a life-altering knee injury has played a major role in the conclusion to his career. The 37 year old had hopes that his career would not end this way, and he would see the field once again, but as he tells ESPN, the severity was much too immense and for his own safety. He has had to step off the field for good. 
Pedroia had been floundering with knee troubles since early 2017 after he took part in a collision at second base. When opposing player, Manny Machado slid into the base, he hit Pedroia instead. A few months later, he had his first of many knee surgeries regarding the incident with Machado, playing in only 9 games for the next two seasons. Although past teammate, David Ortiz, has said, "His commitment was extraordinary." It was palpable to all that no level of commitment could get him through this injury. Rehabilitation had been going well until he started to wake up with his knee swollen. He had plans to see the field again, but after a visit with the doctors in early 2020, he learned he had to get a partial knee surgery. He told ESPN reporters, "It wasn't physically possible for me to continue to play baseball with the partial knee replacement, so once I got that done, I knew." Pedroia had been suppressing his pain for years, and he realized it was time to take a step back from baseball. 
Although we may not be seeing his famous #15 jerseys take second base anymore, his legacy will live on. His manager, Terry Francona, has told ESPN reporters "He always seemed to save his very best plays for the most important time of the game. He seemed to will himself at times to lead us to victory." Pedroia has broken many records, such as holding the highest amount of opening-day starts for any Red Sox player in history, and won numerous awards, so fans will not forget his name any time soon.