Read Alouds and Pen Pals from English Honor Society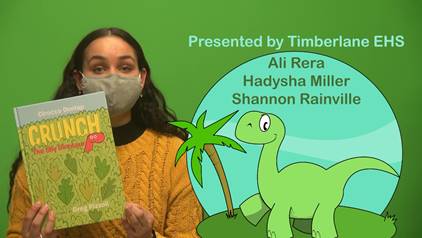 In spite of the challenges we have all faced this year, EHS members have been using their ingenuity and creativity to keep two important programs going. First, members have been busy with our Read Aloud to Students video project. Geared toward younger elementary students, EHS members read, act out, and record books to encourage young students to read. The latest story, "Crunch" is about a shy dinosaur who teaches viewers how to be a good friend through patience and kindness. Recorded stories may be viewed on vimeo at https://vimeo.com/channels/trhs.
The second EHS program that has just launched is our elementary school pen pal program. We have linked up with Sandown North fourth graders – all 73 of them – and have just finished our first digital letters via google slides. Not only do we hope to make lasting connections with our young friends, but we are also helping them to learn how to use google slides for their own creative letters. We cannot wait to see where this project takes us!
EHS is committed to spreading the joy of reading and writing, and we hope through projects like these to make a lasting impact on our TRSD community!