TRENDING- Spotify wrapped 2020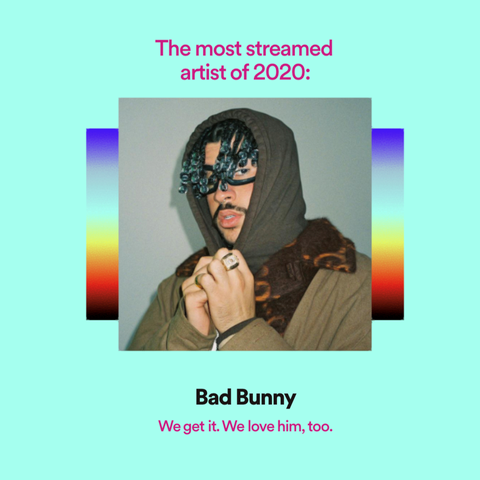 Did you cope through 2020 with music? What did your Spotify Wrapped look like?
If Lil Uzi Vert was not your top artist, start listening.
In 2020, it is not a surprise that the app Spotify gained many new listeners. Through this hard year, music was a great distraction for many people across the country. In 2020 Spotify revealed many new features and more listening options like podcasts and new artists. Using Spotify's Wrapped feature you can find out your top songs, artists, and podcast of the year. This feature is very advanced and provides a great way to compare your taste with your peers around you.
If you scroll through Instagram, Facebook or Snapchat stories you will most likely run into your friend's "Wrapped" list at this time of year. This list shows their top songs and it is very easy to discover this. You first go to the Spotify website and log in using your user info, which will let you see your wrapped presents. The insights will share the most listened to artist and podcast of the year on the overall app also. People who use their cellphone to access their wrapped playlist can add the playlist to their library and listen to all their top songs in one. You could also just search 2020 wrapped on the app itself and it will provide you with your insights. 
In the Spotify world, 2020 continues to get better. According to Oprah magazine this year Spotify's adding six new features as a wrapped program, including interactive quizzes and the "Story of your 2020," which shows you exactly when you listened to your number one track of the year. To add to that 2020 in the first year Spotify Wrapped data is available to non-users of the service. 
"Most Streamed Artist of 2020"
Apple Music has a similar feature called Music Replay that shows the user's top songs, albums, artists of the year, time spent listening to each song, and a few other details. However, Spotify Wrapped shows much more in-depth than this other app.  Coming from an avid music listener and previous Timberlane High School student Jared Morrison,  "The Spotify Wrapped has helped me compare my music taste to my friends. It has shown me how diverse my music taste is, you would never guess that all y five top songs were from Lil Uzi Vert." After hearing Jared's view on the topic, I couldn't agree more. 
Overall, Spotify Wrapped is an interesting way to learn about yourself and the music you spent listening to all year. It is so cool to share your habits with your friends and compare. As an increase in users on Spotify this year, the musicians on the app are most likely so thankful that anyone who uses Spotify could support them tremendously through this hard year.  For all of you Apple Music users out there, switch to Spotify!