Smiling Screens: Days Of Kindness Is Back In 2020 Fashion
The modern school day has evolved into a dismal, digitalized world. Teachers and students have reported feeling isolated; teaching and talking to blank names on the screens can be discouraging. Timberlane's National Honor Society (NHS) has decided to continue their Days Of Kindness in the 2020 atmosphere.
This year, there will be a day of kindness for each cohort! One on Tuesdays (B Day) and one on Thursdays (A Days) starting this past Tuesday the eighth of November. This will likely continue as a once a month event. The NHS is encouraging everyone to wear yellow, virtual or in person, and if you're on Zoom, to make sure to turn those cameras on! 
Normally, these days of kindness are about once a month on Wednesdays. NHS members wore yellow, handed out candy and welcomed students together at the doors. Unfortunately because of COVID-19 conditions, this isn't possible in it's traditional sense. So why continue days of kindness this year? In response to this question, Maggie replied, "the point of this is to lift spirits and remind everyone that a small act of kindness can make a HUGE difference in the lives of others. You may not even know the impact your kindness has on others!" She continued, noting that, "National Honor Society wants to continue these days because everyone needs a little positivity in their lives, especially during these difficult times. A little reminder is all it takes to start a chain reaction of kindness!" And that's what this is all about!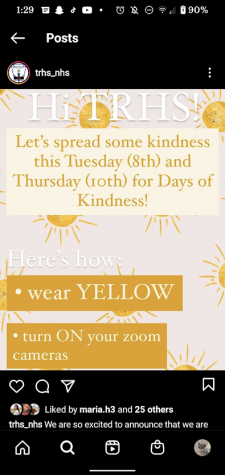 One of the most important ways the NHS plans to spread some positivity is by encouraging members and nonmembers alike to turn on their cameras, whether it be for the day or more regularly. This school year many students have been choosing to leave their cameras off when learning from home. Many students find it convenient, routine, yet some challenge this new norm. Maggie McCormick, the President of Timberlane's NHS and a Senior here at Timberlane, endorsed turning on cameras saying, "turning on your camera is primarily for the teachers! Teachers have been working so hard this year to give their students the best learning experience. It can be sad to sit and talk to students' black screens, not even knowing if they are there. Turning on the camera can make a teachers day! It also serves as a good reminder of the importance of Days of Kindness if you have your camera on and are wearing yellow!" The reaction has been immediate! Teachers have been excited to see students' faces on the screen, finding it energizing and helpful to gauge class reactions. How easy is it for you to make someone's day? Challenge yourself to embrace kindness and to appreciate it, and see what good you can do for others. How do you plan on participating?
To stay up to date with the National Honor Society's doings check out their Instagram @trhs_nhs . You can interact with polls, leave thoughtful comments on their story, and contact NHS Exec directly!