Wicked New Cafe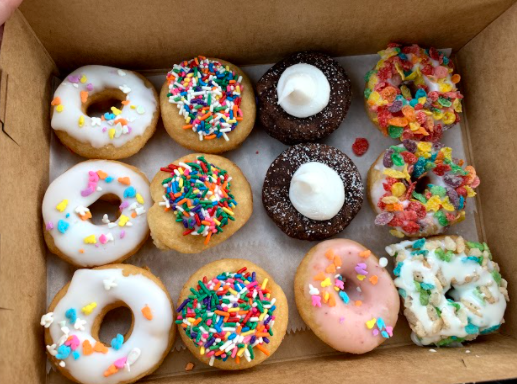 Since opening in 2017, Wicked Mini Cafe, originally known as Wicked Mini Donuts, has become very popular. According to the Wicked Mini Cafe website, founders Chip and Anne Andrews were looking to shake up their lives and thought that mini donuts was an interesting concept. Before becoming Wicken Mini Cafe in Portsmouth, New Hampshire, the couple opened up Wicked Mini Donuts in York, Maine. Wicked Mini Donuts was becoming popular very quickly, and because of that, the couple decided in 2020 that it was time to expand not only their building, but their menu too. Wicked Mini Cafe opened up in Portsmouth, NH during the spring of 2020, with a wide variety of mini donuts and many other food and drink items.
There are many flavors of mini donuts to choose from. According to the Wicked Mini Cafe website, the donuts you can choose from are "Birthday, Chipper, Coffee Cake, Oreo, Boston Creme, Fruity Pebbles, Whoopie Pie, Maple Round, Krispy, Cinnamon Sugar, Smores, Vanilla Frosted, Bacon, Chocolate Frosted, M&M, Strawberry Frosted, Reeses, and Rice Krispy." The donuts can come in a six, twelve, or twenty-five pack for very reasonable prices. The price for the six pack is $5.50, the price for the twelve pack is $11, and the price for the twenty-five pack is $22. The new additions to the menu include a wide variety of food items that give the customer some good options to choose from.
The new menu has become more inclusive and has some healthier options. For example, the new menu includes salads, acai bowls, and smoothies. The new menu also includes breakfast and lunch items. Some of the breakfast items include a wide variety of bagels, muffins, sandwiches, toast, acai bowls, and breakfast bowls. For the lunch items, the cafe now has burgers, salads, and a selection of sides. The sides include french fries, sweet potato fries, and tater tots. 
The Wicked Mini Cafe currently has 4 ½ out of 5 stars on Yelp with a total of 78 reviews. Customer Brandy S, from Lebanon, NH, gave the cafe 4 out of 5 stars on Yelp and said, "First, the good- super cute idea, mini donuts, and a good way to get a variety of flavors without committing to a full size donut.  The donut itself was moist with good flavor, and the number of flavor options was also good.  If we could offer a couple of well-meaning suggestions, as people who seek out donuts wherever we travel… The glazes and fillings were too sweet.  We suspect they're using icing sugar, which oftentimes masks otherwise good flavors with its cloying sweetness.  The maple bacon didn't taste like maple, it tasted like icing. The boston cream filling seemed to rely on gelatin as a stabilizer, vs real cream.  If they were to rework their fillings and glazes,  they would be in our top picks and we only offer these suggestions if we thought it would make a difference. Overall though, a solid choice." This review is somewhat recent, coming from June 13th, 2020. Even though this customer gave the cafe 4 out of 5 stars, they believe that some of the mini donuts at the cafe need some work. The customer also pointed out how the glazings and fillings were too sweet for their personal preference. 
Although most of the reviews are positive, a customer by the name of Cassie T, from York, Maine, gave the cafe a 2 out of 5 star review and said, "Tried this place shortly after they opened last year and the line was out the door. Unfortunately, it wasn't worth the wait. Donuts are tiny, expensive, and really not that tasty. I think Dunkin's has better donuts." These customers had very different experiences when it came to Wicked Mini Cafe. One believes that the donuts are overpriced, and another believes that it is a solid choice to get something to eat. It truly depends on one's tastes and the cafe might not be for everyone, but it's still a very popular spot nonetheless. 
I have personally gone to Wicked Mini Cafe multiple times and believe that it is a good place to get some mini donuts. I haven't tried much else on the menu besides the donuts, so I cannot speak about any of those items. I believe that the donuts are sold at a reasonable price, and it is a nice treat to have once in a while. I admit that sometimes the donuts are a little too sweet for me, and the amount of sugar can be overwhelming, but most of the time, they are delicious. My go to donut flavors at the cafe are birthday, fruity pebble, rice krispy, and whoopie pie. I really do enjoy these donuts, and I totally recommend Wicked Mini Cafe to anyone who has a sweet tooth, and is looking for something new to try that can't be found anywhere else.