Astros Throw 2nd No Hitter in World Series History
The Houston Astros threw a No Hitter in game 4 of the World Series against the Philadelphia Phillies. This is the second time a team has been no-hit in World Series history. Last time this happened was in the 1956 World Series by Yankees pitcher Don Larsen who threw a Perfect Game against the Brooklyn Dodgers.
Pitcher Cristian Javier Started the game for the Astros going against Phillies ace Aaron Nola. Javier proceeded to pitch 6 innings only allowing 2 runners via walks. Javier also notched 9 strikeouts in those 6 innings. Nola on the other hand got lit up pitching 4 innings and allowing 7 hits and 3 runs. Following Javier, Bryan Abreu came in to pitch the 7th inning. Abreu faced 3 batters and struck out all 3. Going into the 8th inning, Rafael Montero came in for relief. Montero also pitched 1 inning striking out 1 in that inning. Finally going into the 9th with the No Hitter on the line, Closer Ryan Presley came in to finish it. Presley walked 1 batter and struck out 1 finishing the No Hitter and giving the Astros a 5-0 win and tying the series 2-2.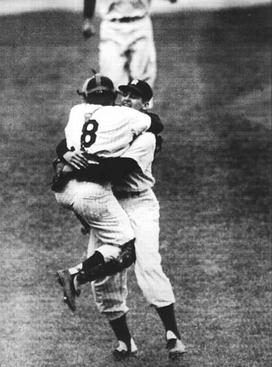 The First No Hitter back in 1956 was much more impressive than the Astros combined in this series. Don Larsen took the mound for the Yankees in game 5 of the series. Don went all 9 innings for the Yankees throwing a Perfect Game which is when you face 27 batters and get each one out not allowing any base runners from walks, hit by pitches, errors etc. Larsen only threw 97 pitches in total for the entire game. Javier threw 97 in total through his 6 innings pitched. Don also faced 5 future Hall of Famers that day, them being Pee Wee Reese, Gil Hodges, Duke Snider, Jackie Robinson and Roy Campanella. Don's win gave the Yankees a 3-2 lead in the series which the Yankees ended up winning the series in 7 games.
Being 66 years apart and only 2 ever in MLB history, who knows when the next time this will be accomplished and how rare the feat really is.