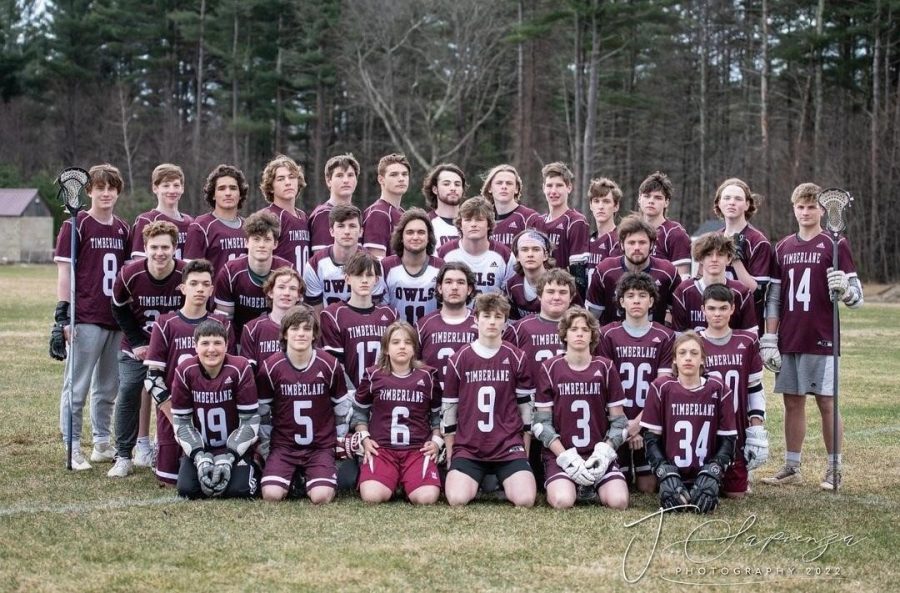 Spring is finally here and with it comes some of Timberlane's most highly competitive sports teams. With the boys and girls Lacrosse, Softball, and Baseball teams, the avid Timberlane fan is going to have to grow another set of eyes just to keep up with all the action. Not to mention the Spring Track, boy's Volleyball, and Tennis team are also going on during the spring. 
One of the biggest days for spring sports was April 11th, boy's and girl's lacrosse, baseball, softball, and boy's volleyball had their first games of the season while the tennis team had their third match. This day was extremely big for the lax players as it was a day for honoring Michael Levitt in the girl's game and the next day for the boy's game. Fans were asked to wear crazy socks to honor #32.
The Boy's lacrosse team won their first game at the Owl's nest against ConVal with a score of 7 – 2. Joseph Shivell, one of the captains, thinks that "It was a great start to the season, some things to work on but played well overall. The Girl's Lacrosse team had a close match with a score of 8 – 10. 
Baseball was away at Exeter and unfortunately lost 0 – 12. Back at Timberlane, the Softball team also was defeated 3 – 9. Abby Farone says there is a lot of potential and Jill Singer says that "the rest of the season will go crazy."
The tennis team had their third match this season at Portsmouth high school but also had another defeat with a score of 0 – 9. 
The boy's volleyball team had their first game away at Windham high school who were last year's champions. The team did lose 3 – 0 but did show some promising growth for the season
If you need some sources to help stay on top of schedules, special matches, or even just to get scores, here are some sources. For schedules and scores, NHIAA.org has a lot of info. For the students who want to hear about fan sections for games, follow @trhsfansection on Instagram. 
If you want some social media posts from specific teams here's a list of some of our school's Instagram pages.
Boys volleyball     Spring track and field    Tennis team        Girls lacrosse    
@trhsvb               @trhstracknfield            @trhstennis        @timberlanegirlslax 
Boys lacrosse       Baseball team                                 Softball team
@owlslacrosse     @timberlaneowlsbaseball_2022    @timberlanesoftball